Hi! This post contains affiliate links, and I may get a small commission if you click through & make a purchase. I only post links to items I already have, love and would recommend to my close friends and family. I have also usually done a LOT of research before deciding on them for myself.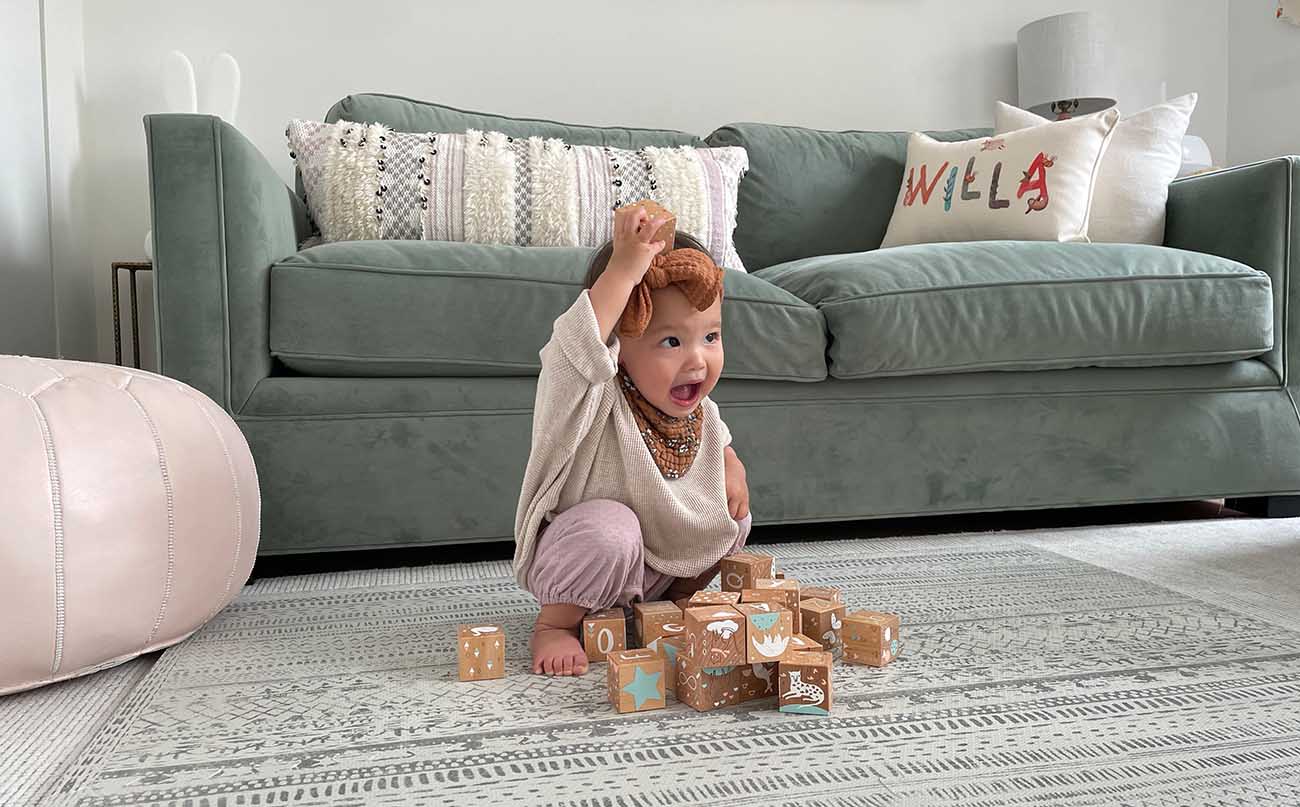 I wrote a post for Modern Nursery on open-ended play! In the blog, I answer questions about what it is, why it's beneficial and how you can support this play-based learning concept at home with your babes!
There's a lot more information in the full blog post but creating an environment where your child can engage in open-ended play will support and develop:
Confidence
Independence
Creative Problem Solving
Curiosity
Persistence, Patience, Resilience
…and more!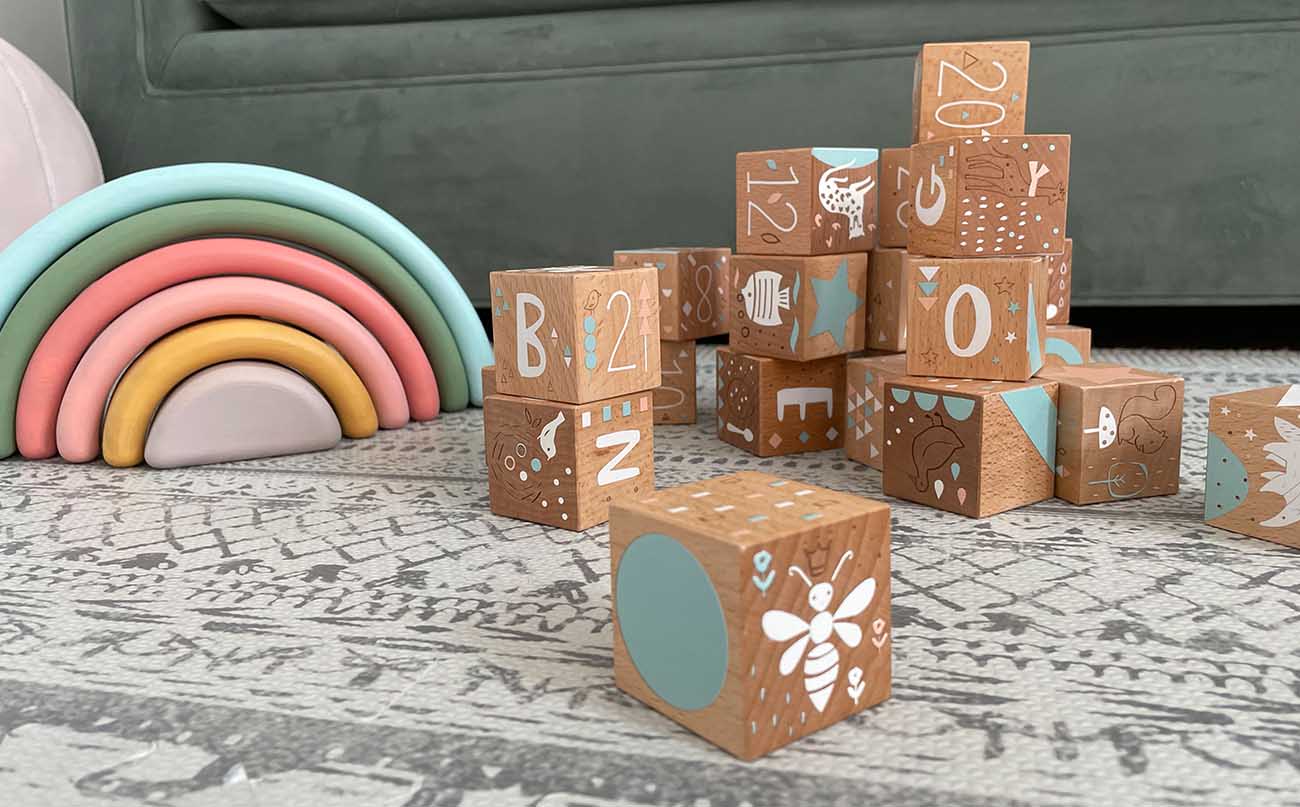 Below are some examples of great open-ended toys and materials – A couple are on Modern Nursery's website post but I've added a few extra things for you here!
Examples of Open-Ended Toys
All of the toys listed below can be played with in a variety of ways, and can become virtually anything in role play and pretend play. The possibilities are endless!
Toys that can become loose parts such as this beautiful rainbow nesting set are excellent. The parts can become a boat, a house, they can be arranged to create a path, roof – you name it.
Objects from nature like sticks, wood slices and pebbles can create a forest scene, become a magic wand and more. I just recently bought some wood slices at a garden center and just made sure they were baby friendly before letting Willa at them!
Blocks! Definitely a must have resource for open-ended play. Your babe will be able to stack and create anything they're mind dreams up – buildings, homes, castles, fortresses, etc. These beech wood etched blocks support learning even more as each block has a number, letter, animal and shape!
Playsilks and scarves can become capes, blankets for dolls, land and sea for small world play, etc. Bonus: they're great to have from age 0 as they can be sensory experiences and play for your baby!
Stacking cups can become towers, cups for tea time and used for containing and sorting!
Flockmen! We are still waiting on these to ship from Europe but they are a wonderful resource for open-ended play. We got them for my nephew when he was a baby and he still plays with them today at 8 years old (in a completely different way, of course)!
Play dough can be manipulated into pretty much anything your babe thinks up – people, animals, parts of a scene, etc.
If ever in doubt, just know that any toy or child-safe material can be an opportunity for open-ended play and learning as long as your babe is given the freedom and space to explore it on their own!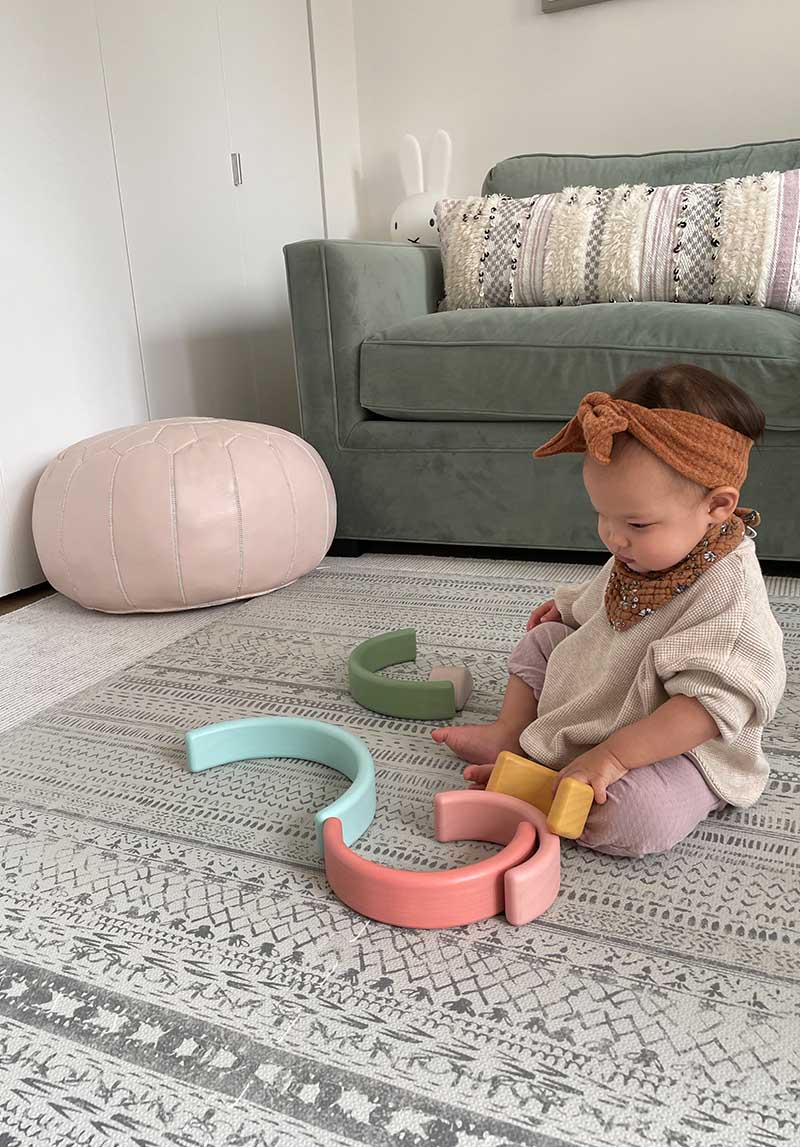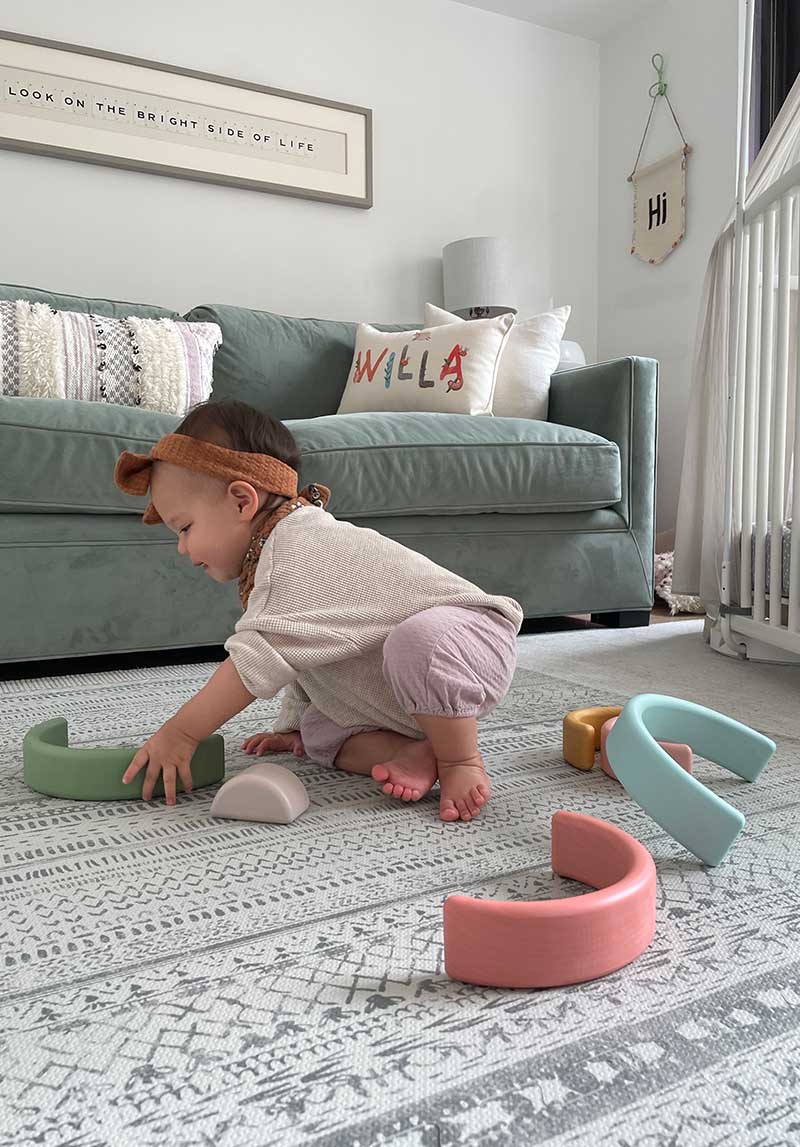 Toys That Support Open-Ended Play
These toys help boost open-ended playing as they can be used with the open ended toys to create scenes and worlds and settings!
Figures of Animals i.e. Ostheimer
Wooden Peg Dolls
Toy Cars
Balls
Materials That Enhance Open-Ended Play
It's always helpful to have some open-ended materials available as well. Having the following available will only make your child's play even more meaningful!
Painters Tape or Washi Tape
Junk Modelling Materials (e.g. Cardboard Boxes, Containers, Pom Poms)
Mark Making (e.g. Paper and Crayons)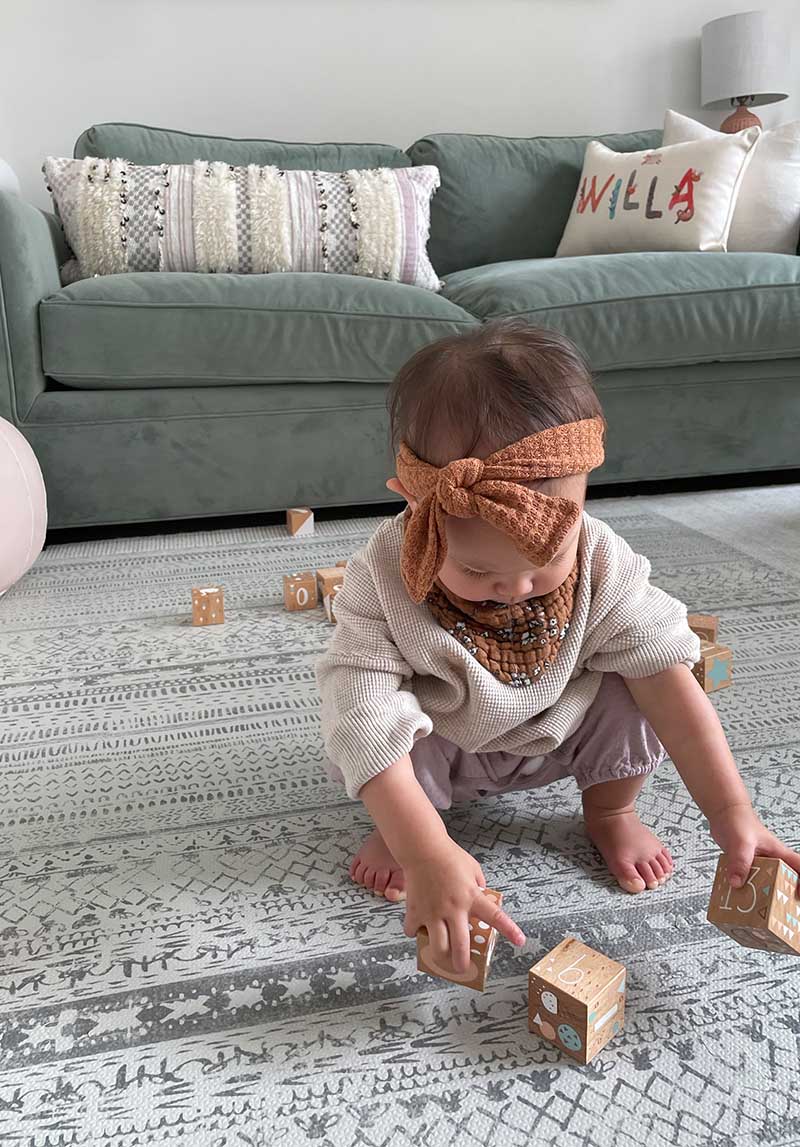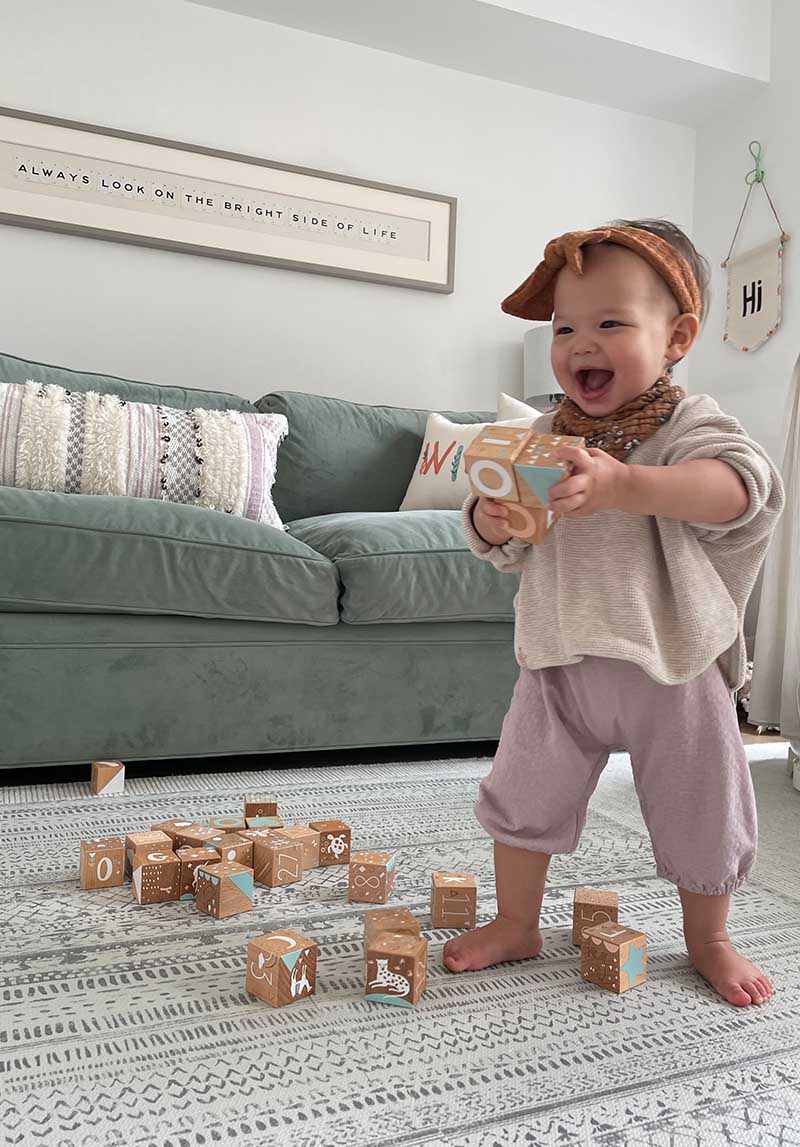 I mention this on Modern Nursery's website post as well but I think it is important to note that at this point, my 1 year old Willa is just having fun investigating the shape, size and weight of her open-ended toys and materials. She stacks them, shakes them, throws them, puts them in containers, swipes them around and transports them to different areas of our home. We can and do model the different things we can do with our toys but we ultimately follow her lead and let her go with what she wants to do. She's not creating magical lands as of yet but I know that with time, she'll continue to explore these toys and expand her learning journey with them!
Thanks for reading and let me know if you read the whole post and if you have any questions or comments!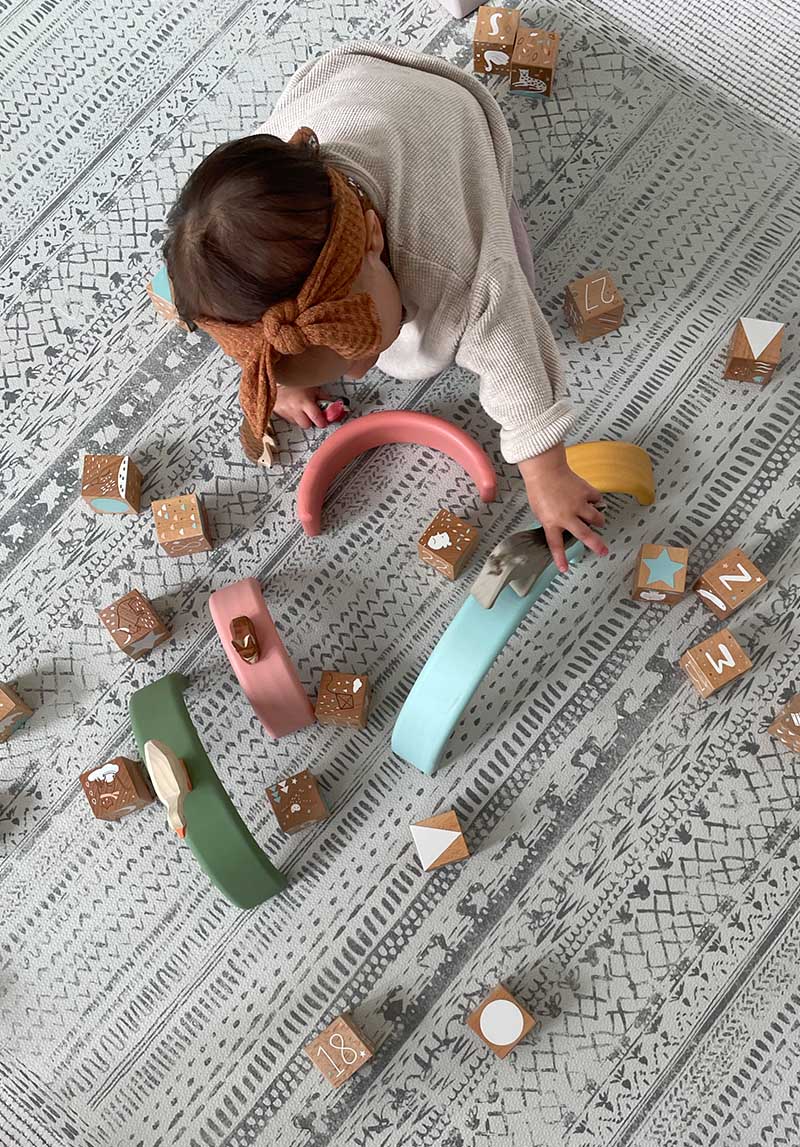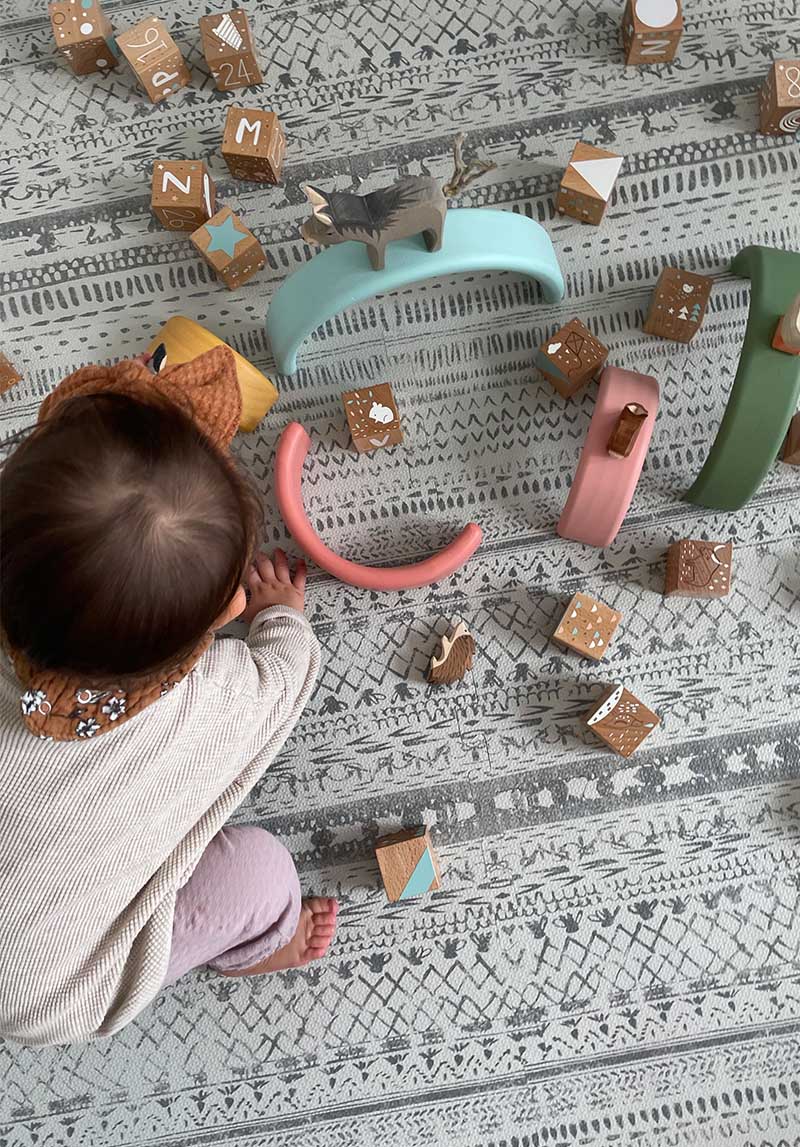 WILLA'S OUTFIT DETAILS
Tane Organics Romper (this link will give you 10% off your order, or use code WILLA10)
Jumper from Zara Baby
Drool Bib from Mebie Baby